I love clothes and makeup and all things girly. A day doesn't go by that I don't wear makeup and I try to dress the best that I can. Sometimes I think people have a stigma about spending time on trying to look as nicely as possible. Wearing makeup and having on a nice outfit gets me through the day and allows me to have enough confidence to walk with my head high and look people in the eye despite my weight.
I have a lot of ideas on what clothes flatter a larger frame along with clothes that take away from a curvy body. Of course, I've made a lot of mistakes and still continue to, but I'd rather make mistakes then not try at all. Buying affordable, good-looking clothes for big girls is hard to find. I'm still developing my own personal style, and get conflicted on what I truly like and what I think is in fashion.
I do a lot of my shopping online and a lot of returning as well. I like to try out new things and use accessories to enhance an outfit. Sometimes I buy in the maternity section to get more fashionable choices and good fits. My body is shaped like a figure eight according to www.igigi.com .
My favorite pants right now:
Old Navy Dark Bark Corduroy pants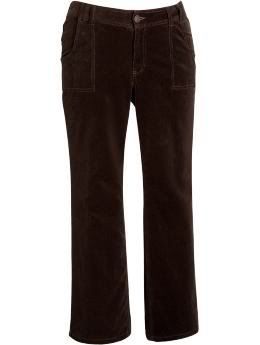 I got these in a size 24 and I love them! I am becoming pickier about pants and find a lot of them from old navy are not made well or have good quality. These are an exception. I am 5'4 and they are a good length on me, the color is nice, they do not wrinkle and the shape stays the same after a day of wearing. They are also very soft and have a little stretch in the right places. I have them on right now.
Old Navy Wool-Blend Herringbone Trousers
I got these in a size 26, but they are very loose and too long. I still love them and the satin lining on the inside of them. They don't have a lot of stretch to them, but they keep their shape. I don't like when at the end of a work day my pants are wrinkly and look two sizes too big. They are really nice pants for work and can be dressed up.